KARMET CNC Electrical Servo brakes are next generation eco-friendly machines combining flexibility, reliability and high accuracy.
SERVALO brakes provide low power consumption, require less maintenance and no hydraulic oil for operation. Innovative KARMET Servo brake comes with advanced touch screen controller, fast and precise punch and die clamping multi axis back gauge system. The user-friendly modern control makes is easy for operators to obtain perfect metal sheet details at very low cost.
Tools can be changed extremely fast. The professional finish (including a slide rule) ensures easy tool positioning. Vertical and horizontal tool loading and unloading for maximum speed and safety. Operator has maximum control of vertical tolerance during bending.
Why choose SERVALO electrical press brake – Up to 50% energy savings, very low yearly maintenance cost, no oil and filter change, no frame deflection because of O-Frame design and accurate bending results, low noise, eco-friendly machine, up to 30% more productivity because of faster cycle time, steady results even after longer operation time.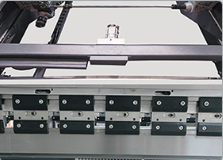 X – R type back gauge (standard). Positioning accuracy: +0,03 mm, Repeat accuracy: +0,03 mm.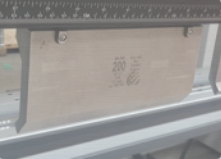 Wila New standard Mechanical Punch clamping and Die Clamping System.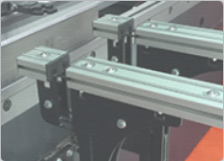 Front support arms – manual movement, left-right and up-down. Useful tool for front support function.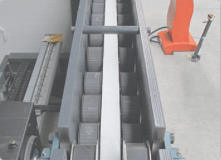 Two sinchronized servo motors. Motors only use electricity during upper beam movement.
Karmet SERVALO 3060-100TN
Features
Standard
Lenze Servo Motors
Mitsubishi Drivers and Motors for Back Gauge
ESA Touch Screen 19'' 3D Controller
X – R type back gauge
European type V die
European type Punch
Electrical cabinet cooling system
Front Support Arms – linear guided 2 nos
Front and Back protection according to the CE (Akas, Sick, ETC)
Tool Holders and Clamping system Wila
Foot Pedal System with Emergency Stop Button according to CE
Optional
Delem DA 66T-69T controllers
Wila type V die clamping system
Wila type Punch clamping system
Crowning Manual Adjustment
Y1,Y2,X,R,Z1,Z2 – 4 axis back gauge
AFT type X1,X2,R1,R2,Z1,Z2 back gauge
CE confirmation with Light curtain
Sheet follower
Angle measurement and auto correction system
Controllers
DELEM 66 TOUCH
2D Graphic programming interface
3D Visulation in programming and part simulation mode
17″ High Resolution Color Screen (1280×1024 32 Bit Color)
USB Ports for backup/restore, part transfer and keyboard/mouse
Storage Capacity 256 MB
Ethernet Port (RJ45) for networking
Alphanumeric part program naming
Automatic Bend Sequence Calculation and Optimization
Graphic Bend Sequence Swapping
Collision check and prevention
ESA S 660 W
19" 4:3 high resolution touch screen (resolution SXGA 1280 x 1024)
CPU PC: AMD Embedded DX 420 CA 2GHz, with 4GB RAM
CPU CNC: AMD LX-LX800 500 MHz, with 128MB RAM
FPGA integrated logics
24 Vdc 100W max power supply
Capacitive Touch Screen wit multi-touch functionality
Ergonomic aluminium housing, with a panel suitable for machine operational selector-switches
2.5″ Hard disc drive 20GB or more
Fiber optics interface
Efficiency is everything
A machine tool is only as efficient as the software driving it, so that is why we personally install every Radan post processor to ensure that it is commisioned to match your machine tool and controller. It is your production efficiency that itis controlling, and thatis why your software is important to us.
Software Options
Kvara (for ESA S 660 W)
With Kvara offline software you can manage 2D bending programs.
M-Bend software allows import of 3D cad files, select tools and generation of bending simulation. It is working only on the controller no offline option. Offline M-Bend software can be purchased additionally.
Finger-tip work piece design.
Direct import of tools shapes (.dxf files) and management of tool library.
Tool and die holders' management.
Angle measurement and correction.
Profile 2D Windows за Delem 66 Touch
Profile 2D is an optional software for machines equipped with Delem 66 Touch control.
Profile 2D provides the same software that runs on the control itself to prepare part programs without interrupting the press brake and the operator then to be transferred to the press brake via network or USB port.
It has all the features of the controller like auto bend sequencing and optimization, collision detection etc.
VBend 3D (for Delem 66 Touch / Delem 69 Touch)
PC1200 comes standard when the machine is equipped with Cybelec Modeva 12S.
PC1200 is the same software that runs on Modeva12S. It allows an engineer to prepare part programs as well as pricing calculation without interrupting the press brake and the operator and transfer them to the press brake via network or USB ports.
It has all the features of the controller like auto bend sequencing and optimization, collision detection etc.
MODEL
Bending Length
Bending Force
Stroke
Daylight
Approaching Speed
Bending Speed
Return Speed
Power
Weight
Overall Length
Width
Height
Max. Height
B
Q
A
C
D
E
mm
Ton
mm
mm
mm/sec
mm/sec
mm/sec
kW
kg
mm
mm
mm
mm
1530-40
1530
40
300
590
170
20
170
11
4600
2660
1961
2500
3246
2040-50
2040
50
300
590
150
20
150
11
4850
3170
1961
2500
3246
2550-65
2550
65
300
590
130
20
130
11
5500
3680
1961
2500
3246
2550-80
2550
80
300
590
90
20
90
11
6100
3680
1961
2500
3246
3060-100
3060
100
300
590
75
20
75
11
6500
4220
1961
2500
3246